As we know, a great "God of rock´n roll" past away few days ago. I didnt never met him, but I know some people who did. What I heard, he was fair and what he wanted to be: himself.
I started to think more about life. He passed away as he wanted: with he´s friends and family and playing he´s favorite video game. Lived hes life till the end as he wanted. What a life!
Then I started to think me, as a human. Too much I have tried to fit in, in norms, that has set by someone else. You know, what I mean? Not being truly free as me, more or less being... acceptable.
Trying to do things, like others. Yet..inside my heart is crying for something else.
And by that I dint mean: sex, drugs and rock´n roll. No... no no no. I´m happy in my home, with my man and this life. But there´s a wilder side in me, that I have kept in chains for so long now. I know it, I can feel it in frustration... I can feel it while listening some awesome music... I havent been too honest to me.
As Lemmy died now, and I´m reading all those stories about him... I´m starting to undestand, how important it is..to follow your heart. To be honest to you. There will be people, who dosent understand and some do understand. But the main thing is: understand yourself.
To be true to you. That could be (maybe is?) the way, that you will find your purpose, your talent to fulfill your life. What makes you happy. How you can feel satisfied.
I have been feeling, like something´s missing in my life. Not money, not people...something. Now I understand that I´m missing that wilder part of me. That part, that makes me what I am, totally.
I havent dreamed big, because I was too afraid. "What if... that´s not acceptable here?" and by that I dont mean something dirty things.. but something else than working 9-5. I know, that I´m not build to do that. I have known it since I was a kid. I have known it whole of my life.....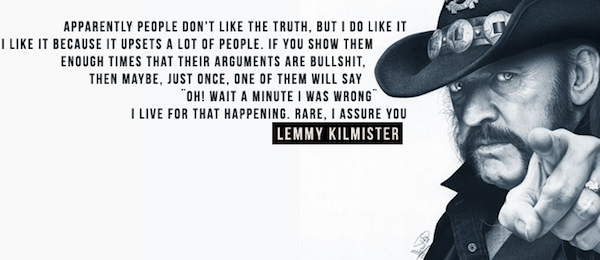 ( not Lemmy, but good one anyway)
He IS still, in my mind... a legend. Thank you and R.I.P Lemmy <3
with love,
Maarit